What is Bone Grafting?
Over the last ten years, bone grafting has become a hot topic in dentistry. With the advent of Dental implants and their increased popularity, bone grafting has become a much-needed procedure. Simply said bone grafting in dentistry and in dental implants, is the procedure of enhancing the bone and increasing its thickness and height and making it healthier and stronger to receive a dental implant or sustain the long-term health of a dental implant.
Often after an extraction (loss of a tooth) for various reasons, the bone will remodel and reshape with a small or large deformity or defect. This defect will yield a bony area that is not well suited to receive a dental implant. Most times the bone dimension and quality, properly surveyed via clinical evaluation x-rays and/ or CAT scans will limit the clinician's choice of an implant. As a response Dentists and clinicians used to use smaller or shorter implants, or angle the implants into the bone. The first would usually lead to an increased rate of loss of implant (shorter and smaller implants have a survival rate of 85% vs a long and large implant at a survival rate of 95%).
The second; placing the implant at a severe angle to capture healthy bone, would yield an often unaesthetic compromised implant/ crown (fig. below)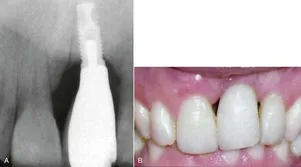 As our technologies have evolved and our patients' expectations have increased, it is no longer acceptable to just deliver a crown over an implant. Here at Oral Dental Care we strive to make our dental implants as esthetic as we can get. To that effect, we employ a large number of techniques including Immediate implant after Extraction. but also when an immediate implant is not possible we recur to bone grafting. www.biologixtechnologies.com .
It is routine in our offices to advise our patients about the benefits of bone grafting after extraction of a tooth. The process is easy and pain-free. It is done at the same time of the extraction, the alveoli (tooth socket) is inspected and properly cleaned and disinfected. Bone graft materials are used to fill the socket and properly close the surgical wound. Sometimes a membrane (see arrow below) is used to create a barrier and shield the grafted material. The graft will go on to incorporate with the surrounding host bone and will give us after 4-6 months a healthy bone that is now ready for the placement of a good sized implant and a good angled implant. Both yielding to a longer term and esthetically acceptable implant.

Right front tooth restored with an immediate implant and bone graft
Bone Graft Material
There a so many bone grafts out there that it would be too much to list all of them. Let's just say that these materials can be divided into three major groups.
Auto grafts: these are the best materials, they are pieces of bone taken from other parts of the patients. Chin and maxillary tori in most routine clinical cases, and somehow limited to the hospital settings are hip, rib, and calvarium. The ribs have fallen out of favor over the years.
Because they come from the same patients these are proven to grow good amounts of bone. However they often require a second surgical site, and they are in limited quantities and are difficult to handle.
Allografts: have become over the years the gold standard of Dental and oral surgery. Allografts are bones that have been harvested from human donors. They are extremely well screened and sterilized and yield a safety index of 1/10000000.
They are strictly monitored and certified by the AATB (American Association of Tissue Banks) and The FDA. They are well tested for bone regeneration and yield optimal results with little pain or suffering for the patients. Here at Oral Dental Care we are proud to work with several tissue banks and US based companies that procure us with the best materials. We are particularly proud to introduce to the dental community, in addition to the regular basic allografts, ones that are considered next generation Allografts. Used in Orthopedics and Neurosurgeries , these materials have proven to constantly succeed. We have become pioneers in next-generation allografts: from compressible bone to malleable bony membranes to bones in a paste format, different materials for different cases and different objectives and indications.
Experience in Grafting
Dr. Farha has spent considerable time and effort working with all these different materials both on a clinical and research levels. He has teamed up with several companies to ameliorate these materials and bring them to use in the dental field. He has started a company that educates other dentists in the field of Allografting and distribute these materials in various parts of the world. Biologix Technologies is focused on developing solutions for bone regeneration in both the dental marketplace. To that extent, it Has teamed up with several companies and tissue banks in the USA to achieve these results. All these materials are FDA approved, the facilities are AATB certified and the materials themselves have been rigorously tested to form bone in the human body.
Even the membranes we use today are a variety from the garden variety collagen and synthetic membranes to the more sophisticated bone membranes (shown below).
Recently we have started using the more advanced and sensational Amnionic membranes
Widely used in Ocular surgery and burn and skin grafting, the Amnionic Dual Layer membranes have the following benefits: Amnion is a versatile tissue with application in a variety of surgical procedures to provide an adhesion barrier protection. Literature has documented amnion can reduce inflammation, contains collagen, has a variety of growth factors, is biocompatible, and resorbs within the body. Amnion has also been used to reduce the postoperative risks associated with scar tissues. Faster healing decreased infection and faster placement of implant prosthesis.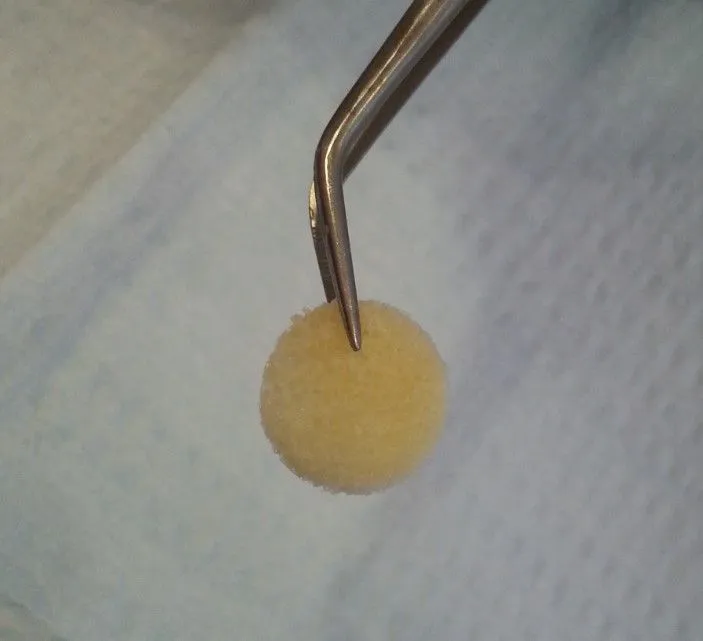 Cervical Sponge Bone used to fill large defects and in sinus lifts and Ridge augmentation
As you can see at Oral Dental Care we bring to the table over fifteen years of interdisciplinary expertise that spans from regular dentistry to orthopedic and neurosurgery to Bone biology, to better serve our patients in an effort to tackle the easiest cases and the most difficult ones with ease and certainty and confidence.
All these products are supplied by some of the best bone banks in the USA
They are all highly sterilized and screened.
AATB (American Association of Tissue Banks) certified.
FDA approved and registered.
Alloplasts: these are synthetic materials that have been manufactured by other companies, and while they have fallen to a second rank line of grafting, these materials are safe and abundant, they are relatively inexpensive, they are mainly used as filler materials these days, but still have a place in our bone graft armamentarium.
Our clinicians will discuss at length these different options and will help you in selecting the proper material.
Interested in bone grafting?
Call Oral Dental Care in Brooklyn, NY at (718) 833-6895 to learn more!
Click here for our other locations!