All professionals at Oral Dental Care maintain the highest levels of accreditation and pursue ongoing education to stay abreast of the latest trends in the medical field. Read on to learn more about our staff's experience and training.
Tony Farha, D.D.S.
Implant Dentist in Brooklyn, NY
Oral Dental Care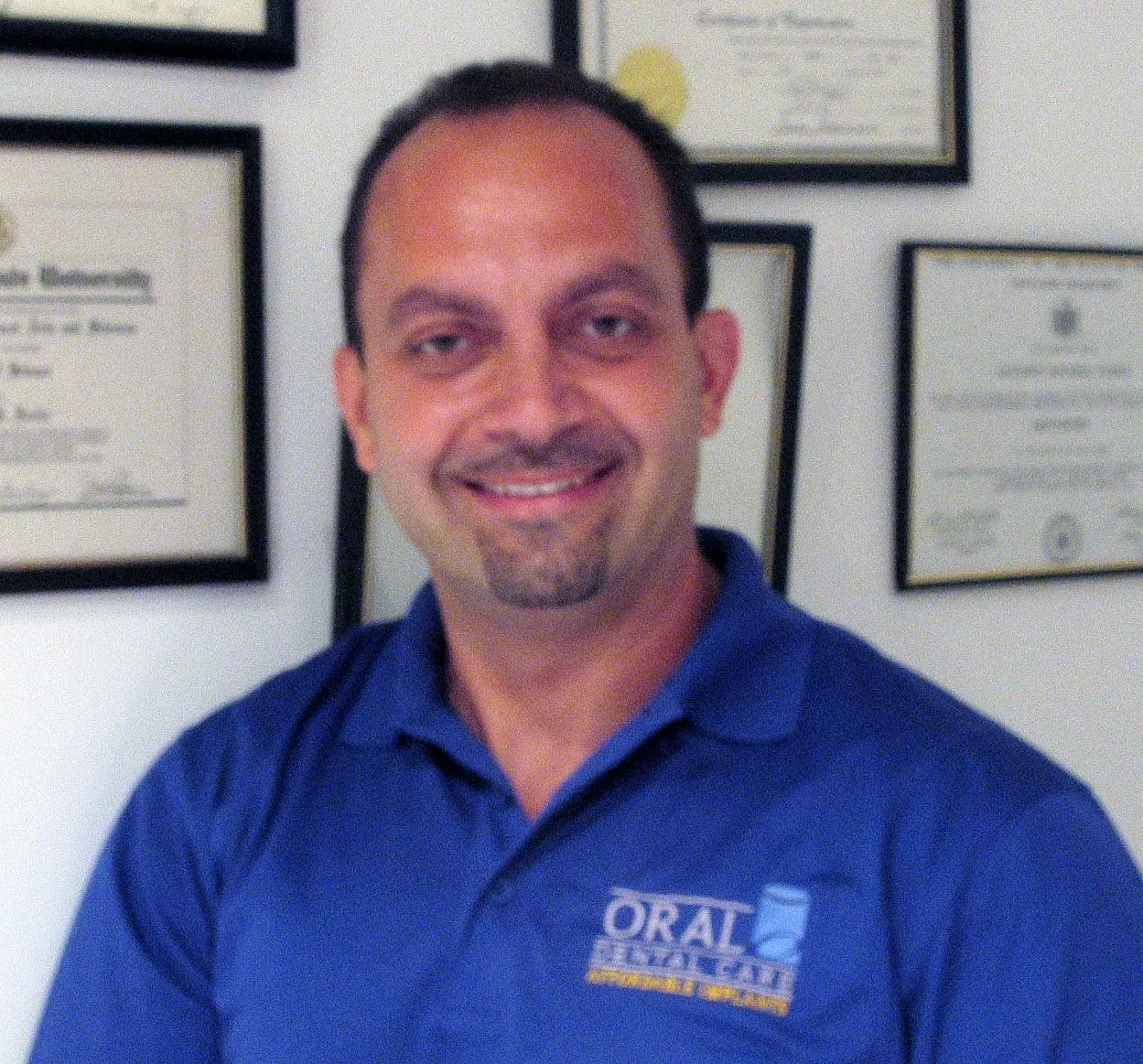 Dr. Farha received a BS degree in Biology from Wichita State University , in Wichita Kansas in 1992. He completed studies towards a Masters Degree in Business Science at the same institution (1992-1994). He was admitted To New York University College of Dentistry in 1994 where he received his DDS degree with Honors in 1998.
He completed a General Practice and Oral Surgery Residency program at the Dwight D Eisenhower VA Hospital system in Kansas 1999-2000. The residency had a strong emphasis on internal Medicine and Oral surgery including dental Implants and Bone grafting procedures. He completed an extensive didactic dental implant course The Maxi Course in 2000.
Dr. Farha showed a great interest in oral pathology research, receiving the Dean's Grant in Dental research, for work on identifying and differentiation of several oral neoplasms (Oral Cancers) via Immuno- staining techniques.
He also had the privilege of lecturing to his fellow physicians at the VA center on the systemic diseases and their reflection on the oral cavity.
An accomplished dental surgeon, Dr. Farha started his professional career in 2001 by introducing to the Northeast USA, and some International Countries the Mini Dental Implants as a solution to an ill-fitting dental prosthesis.
Backed by hundreds of successful cases in the following two years, Dr. Farha was asked by IMTEC Co to lecture on the MDI to fellow dentists. In 2003 he started his own practice in Brooklyn NY, a practice focused solely on Mini Implants and Dental Implants and auxiliary treatments (bone grafting, sinus lifts pre-prosthetic surgeries etc…). In 2005 he started another office in Staten Island NY with the same focus. He kept lecturing and conducting mini-residency training sessions for IMTEC and subsequently 3M ESPE, and currently serves as a Key Opinion Leader for that company.
He was twice featured on ABC News, and FOX News New York for his work with Mini Dental Implants.
He was voted as one of 2010 Top Dental Speakers by his peers on dentallearning.Net/ All speaker.
In 2011 he was admitted to The American Academy of Implant Dentistry (AAID) as an associate fellow, a feat that coronates three years of testing and case presentations in Implant proficiency.
In 2016 He became received the Certificate of Master in Implant dentistry by the International Dental Implant Academy (IDIA).
A frequent lecturer on both the National and International level.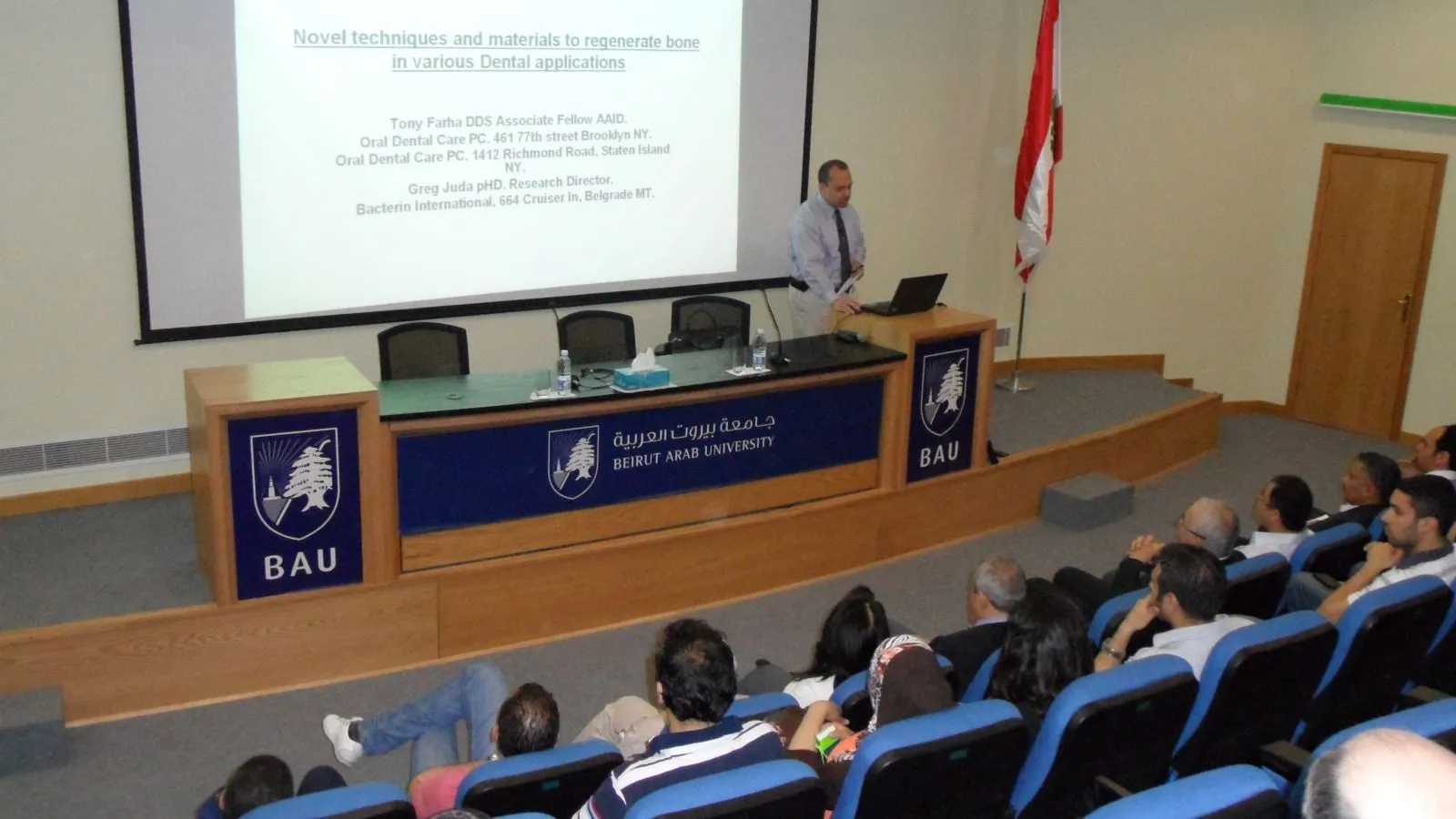 Lecturing at the prestigious BAU in Beirut Lebanon
Mini Dental Implant trainer
Doctor Farha has trained since 2003 over 450 certified dentists in the Mini Dental Implants treatment. Most have returned to their communities to bring this life improving procedure to hundreds of denture wearers.
We conducted over hundreds of hands-on courses and seminars on Mini Dental Implants and bone graft technologies in our state of the art offices in Brooklyn and Staten Island New York.
Post-Doctoral Qualification:
In 2011 Dr. Farha received his Associate Fellowship in Implant Dentistry from the oldest and most prestigious US implant association the AAID.
To qualify for Associate Fellowship, Dr. Farha completed a minimum of 300 hours of post-doctoral instruction in implant dentistry, performed implant cases and passed the Academy's Associate Fellow examination. This examination, which is conducted by an expert panel of implant dentists, included a written examination, a series of oral examinations and defense of three implant cases that he had completed.